When it comes to considering how to recycle old printer cartridges here in Australia, we're fortunate to have various options open to us. But in this article, we're only going to concentrate on the three most common options, and from there, you can decide which is the best way for you to recycle your old printer cartridges.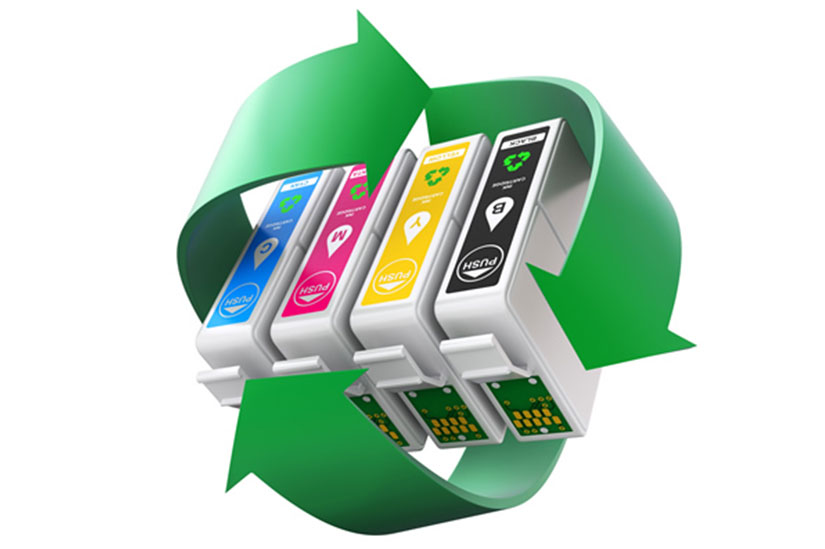 Why Do We Need To Recycle Printer Cartridges?
Ink cartridges are constructed out of plastic, petroleum-based products and take about 1,000 years to decompose. Each year, millions of empty toner and inkjet cartridges are thrown into the trash, ending up in our planet's landfills or incinerators.
Approximately 1.3 billion inkjet cartridges are used worldwide annually, but less than 30% are correctly recycled. If you could stack all of the empty printer cartridges generated each year end-to-end, they would circle the earth twice.
Here in Australia, recent estimates suggest at least 34 printer cartridges are sent to landfill sites across the country every minute of every day, totalling around 18 million annually.
By choosing to recycle your old printer cartridges, not only are you helping to reduce air and water pollution associated with landfill and incineration, but you're also conserving natural resources used to create new cartridges.
The recovery and reuse of empty printer cartridges divert millions of cubic feet of material from waste disposal, saving the country millions of tax dollars needed to pay for additional landfill management.
So not does recycling old printer cartridges save the country money it also helps to reduce the energy used to manufacture new cartridges, thus reducing your carbon footprint.
The Different Ways You Can Recycle Your Old Printer Cartridges
The three most common ways of recycling your old printer cartridges include;
Returning empty printer cartridges to the original manufacturer.
Recycling them via the 'Cartridges 4 Planet Ark' program.
Refilling your old printer cartridges
Returning Your Old Printer Cartridges To The Original Manufacturer
Many of the major national and international manufacturers of printer ink cartridges here in Australia, including;
Offer free take-back programs; some even cover the cost of postage. At the same time as running these programs, they are also committed to sustainability through various endeavours, including product development that embraces minimal waste and cost or by joining initiatives that promote recycling in the local community.
When it comes to recycling your old printer cartridge by returning it to the original manufacturer, it is helpful to keep the box or carton that the cartridges came in since it can be used to mail your empty cartridges back to the manufacturer for recycling.
One of the great benefits of returning your old printer cartridge to the original manufacturer is that you have the security of knowing it will be properly recycled by the original manufacturer or an equally qualified cartridge refurbisher.
Recycling Your Old Printer Cartridges Via the 'Cartridges 4 Planet Ark' program.
Established back in 1992, Planet Ark is one of Australia's most respected and trusted environmental organisations. With a focus on creating solutions and making positive environmental actions accessible to everyone.
Their Cartridges 4 Planet Ark initiative is an innovative recycling program that provides Australians with a free and easy way to recycle their used and old printer cartridges.
Since 2003 the program has recycled over 49 million cartridges, with zero waste to landfill.
The success of this program is possible by the great partnership between Planet Ark, their participating manufacturers, retailers and program recycler Close the Loop.
To recycle your old printer cartridges and which includes inkjet cartridges, via the Cartridges 4 Planet Ark initiative, it couldn't be easier. You can either click on the RecyclingNearYou website site, and here, you'll find literally thousands of drop-off locations around the country to recycle used and old printer cartridges and toner bottles.
Or, if you prefer, you can simply drop off your used or empty laser and inkjet cartridges at any of their participating retail partners, which includes all Officeworks stores, Australia Post, Cartridge World, Harvey Norman, The Good Guys, JB Hi-Fi, Office National and Office Products Depot outlets.
If you're a business or significant organisation with large quantities of used and old printer cartridges to recycle. You can arrange to have a Cartridges 4 Planet Ark collection box delivered and installed in your location, or you can go online and visit Business Recycling to find a suitable collection or drop-off service in your local area.
Refilling Your Old Printer Cartridges.
As an alternative to recycling your old printer cartridges, you could always consider refilling your old ink cartridges.
By adopting this method of refilling cartridges, you are not only saving the cost of purchasing new cartridges but also greatly assisting the earth by reducing Co2 emissions caused by the manufacturing process.
As long as you have the original brand ink cartridge and have used it only once, there is an excellent chance that you can refill and reuse that cartridge with the correct ink refill kit.
Most refill kits include a bottle of ink, a syringe, a screw tool, plastic gloves and refilling instructions. To refill, you will need to inject the appropriate level of ink into the cartridge manually.
Once the cartridge is at capacity, you should then be able to reuse your empty ink cartridges again and print as expected.
Be sure the refill kit you've purchased is intended for your specific cartridge series, as refill instructions and ink capacities vary across brands and cartridge types.
Talk To The Experts About Recycling Your Old Printer Cartridges
Recycling your empty or used printer cartridges is by far the best way to dispose of them once they are finished. All original printer cartridges (genuine ink cartridges) can be ethically recycled through authorised collection programs or disposed of responsibly.
To find out more about having your printer cartridges recycled and the best recycling process for old printer cartridges, talk to the expert team here at Boomerang TCR.
We are a 100% own Australian company who are environmentally ethical & committed to a cleaner and safer Australia.
For more information on cartridge recycling, call our offices in Melbourne or Brisbane on 1800 441 830 or email bris@boomerangtcr.com.au; we look forward to hearing from you.
How to recycle old printer cartridges